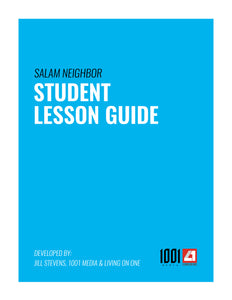 Syrian Refugee Curriculum (Schoolwide Use)
We want to help you teach and inspire your students around the Syrian refugee crisis! This 100-page common core standard curriculum comes complete with proven empathy building exercises, cutting edge resources, and a wide range of opportunities to help your students make a difference.
Targeted at grades 7th to 12th.
Best for the following subjects: Global studies, humanities, foreign policy, current events, world history or any social studies course.
Your curriculum will be delivered in PDF format.
Comes with 4 DVDs of Salam Neighbor via mail in 2-4 business days.
License for Schoolwide distribution. Get an individual license here.
We developed the curriculum with Harvard-educated teacher, Jill Stevens, with support from the U.S. Holocaust Memorial Museum's teacher fellowship. For even more resources, check out our documentary Salam Neighbor, our virtual reality film, our action toolkit, and our interactive website with Google, Searching for Syria. 
Developed by Jill Stevens, Living on One & 1001 MEDIA.