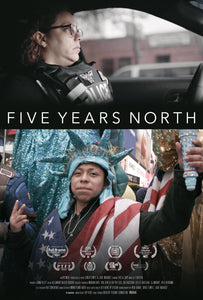 Five Years North Limited Edition DVD
By popular request, we've made a limited edition DVD!
Full Theatrical Version of Five Years North
Spanish subtitles

English closed captions
All Region (0), NTSC DVD
About Five Years North
From the award-winning creators of Living on One Dollar, Salam Neighbor, and The Undocumented Lawyer, Five Years North is the coming-of-age story of Luis, an undocumented Guatemalan boy who just arrived in New York City. He struggles to work, study, and evade Judy – the Cuban-American ICE officer patrolling his neighborhood.
"Remarkable Access" - NY Times
"Deft and Dramatically Engrossing" - Boston Globe
"Compelling Look at Two Disparate Lives" - The Hollywood Reporter
GET INVOLVED: Visit Fiveyearsnorth.org where we've identified tangible and urgent ways to support young new arrivals and to improve our broken immigration system.