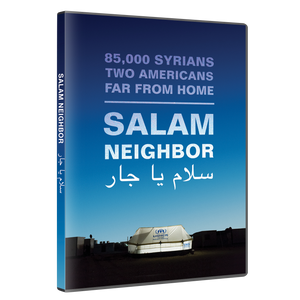 Limited Edition Salam Neighbor DVDs
Now available! Give the gift of empathy this year and get your limited edition copy of the award-winning film Salam Neighbor.
More About Salam Neighbor
Two American filmmakers travel to the edge of war, to live with 85,000 Syrian refugees in Jordan's Za'atari camp. For the first time, experience an intimate look at the heartbreak and hope on the frontlines of the world's most dire refugee crisis.
From the award-winning creators of Living on One Dollar, Salam Neighbor is a must see. It's been called "Important" by U.S Ambassador Samantha Power and "Heart-wrenching" by Indiewire. It's a must watch for all ages.
MAKE A DIFFERENCE: This film is just the start. Visit SalamNeighbor.org where we've identified tangible and urgent ways for each of us to help Syrian refugees.